John Tuttle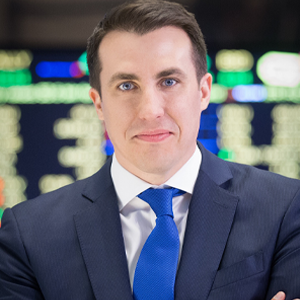 COO and Global Head of Listings, New York Stock Exchange
Honoree Year:
2019
Alma Mater:
Eastern Michigan University
College of Business
United States
Area of Impact:
Financial Services
John Tuttle uses his role as chief operating officer of the New York Stock Exchange to champion innovation, highlight organizations with positive impacts, and provide a platform for world leaders to share diverse perspectives.
It would be impossible to estimate the very large number of high school and college students from around the world who have absorbed a passion for the financial systems and investments that underlie the economic success of our society by being introduced to the New York Stock Exchange (NYSE) by its COO, John Tuttle. Tuttle's alma mater, Eastern Michigan University (EMU), is but one of many institutions of secondary and higher education that have taken their students to learn from the master.
Tuttle leads the NYSE's global listings, capital markets, and Exchange-traded products businesses. He also manages the Exchange's relationships with more than 2,300 NYSE-listed companies and with the investment banking, private equity, venture capital, and legal communities. In addition, he leads the NYSE's business development efforts for initial public offerings, direct listings, exchange-traded funds, structured products, closed-end funds, and real estate investment trusts listed on NYSE or NYSE-American.
From his position, Tuttle serves as an advocate for innovation within his industry. In a recent NYSE article, ""5 Challenges the Tech Industry is Taking On,"" Tuttle noted, ""Today's companies are continually advancing beyond their own boundaries and, in many cases, disrupting themselves," and highlighted ""the benefits of innovative leaders at big companies partnering with cutting-edge startups."" He also weighs in live from the floor of the NYSE on innovative developments such as Spotify's debut.
As COO of the NYSE, Tuttle has brought extensive visibility to many organizations that are having a positive impact on society. From welcoming global entities to ring the opening bell to hosting world leaders such as Japanese Prime Minister Shinzo Abe to share their perspectives with the world from that elite forum, his efforts are spreading global understanding.
Outside of his duties as COO of the NYSE, Tuttle has played a significant role in advising the business school from which he earned his baccalaureate degree by serving as an influential member of EMU's College of Business Executive Advisory Board.