Ann-Marie Campbell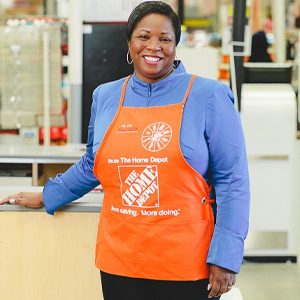 Executive VP, U.S. Stores, The Home Depot
Honoree Year:
2019
Alma Mater:
Georgia State University
J. Mack Robinson College of Business
United States
Area of Impact:
Consumer Goods or Services
With a strong belief in the importance of taking care of associates and helping them grow, Ann-Marie Campbell has helped The Home Depot succeed.
As executive vice president of U.S. stores at The Home Depot, Ann-Marie Campbell oversees nearly 2,000 stores and the majority of the company's 400,000 associates. She leads with an associate-centric philosophy, firmly believing that if the company takes care of its associates, they'll take care of the customers, and growth and productivity will follow.
With this philosophy in mind, Campbell introduced fixed schedules for full-time associates, moving away from the industry norm of variable schedules, which resulted in a more engaged and committed workforce. Campbell also leverages the company's annual Associate Commitment Index (ACI) to assess associate engagement and job satisfaction, which has resulted in higher sales, greater customer satisfaction, and decreased employee turnover.
Campbell is also steering the effort to evolve the company's brick-and-mortar locations through enhancements such as online pickup lockers, improved in-store navigation, and a new consolidated system for associates to sell and manage orders—all part of The Home Depot's three-year, 11 billion USD investment plan aimed at improving the customer and associate experience in the age of omni-channel retail.
With 45 percent of the company's online orders being picked up in stores and more than 85 percent of online returns being completed there, Campbell is leading the charge to ensure stores remain core to The Home Depot's interconnected shopping experience. In fact, her leadership has helped propel The Home Depot from sales of 88.5 billion USD in 2015 to more than 100.9 billion in 2017, an increase of 14 percent.
Campbell has served on the boards of several community organizations throughout her career, including the World Affairs Council of Atlanta, an organization that provides a forum for discussing global affairs and supports the city's transformation into an international economic hub; the American Red Cross Metropolitan Atlanta Chapter; and Catalyst, the global nonprofit leading companies to build workplaces that work for women. She also served on the steering committee of Burning Bright, a three-year capital campaign that raised 300 million USD for Georgia State University, and she is active in Georgia State's Women's Philanthropy Initiative.
A 33-year associate who began her career as a cashier, Campbell is passionate about helping others realize their potential, just as her mentor did for her. She spends two to three days each week walking stores, receiving feedback, and discussing growth opportunities with frontline associates and store leaders. She strongly believes it is only when one develops others that they personally succeed.
Campbell also speaks to students, including those at the Robinson College of Business at Georgia State University, her alma mater. She serves on the Robinson College Board of Advisors and in 2013 established the Ann-Marie Campbell Scholarship, a needs-based scholarship awarded to five Robinson undergraduates annually. In addition, she was an executive in residence at Longwood University in Farmville, Virginia.
Campbell's reputation as an innovator and leader has earned her broad national recognition, including a place on DoSomething.org's 2018 Inspirational 25 list and Fortune Magazine's 2018 Most Powerful Women list.