Anil Rai Gupta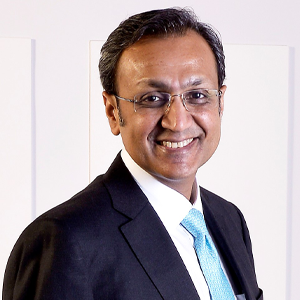 Chairman and Managing Director, Havells India Limited
Honoree Year:
2019
Alma Mater:
Wake Forest University
School of Business
United States
Area of Impact:
Manufacturing or Commercial Services
Anil Rai Gupta's dedication to relationships has contributed to the successful achievements of his electrical goods company, and its impact in the local community.
The importance Anil Rai Gupta has placed on relationships with others has been instrumental in helping him and his company attain success and become a leader within the electrical industry. As the chair and managing director of Havells India, one of the fastest-growing electrical goods companies in the country, Gupta has spent a quarter of a century working to transform the company from a family brand that his father started in 1958 to a globally recognized electrical and consumer durable company.
According to Havells' website, ""marketing strategies"" and ""an unmatched marketing distribution"" have strengthened the company's leadership in the market. Gupta credits the personal relationships between students and faculty at Wake Forest for teaching him that open communication is essential for learning and relating to people. Gupta acknowledges that communication is critical for all businesses. According to Forbes India, the relationships Havells has built with Gupta's dealer network are stronger than those of other players in the industry. One way Gupta and Havells built this rapport was by focusing on the benefits to dealers. Havells invests a small percentage of the dealers' profits in a mutual fund every year. Dealers can withdraw their money and the interest after three years, and many use it to fund their children's education.
The Wake Forest University motto of "Pro Humanitate" (""for the good of humanity"") has taken root in Gupta and flourished at Havells. Gupta started Havells' midday meal program through the organization's QRG Foundation more than 10 years ago. Now, more than 60,000 schoolchildren in India receive safe and nutritious lunches in more than 693 schools each day.
Gupta, who says he is a firm believer in the transformative power of education, feels that the study of liberal arts is essential in shaping future leaders. As such, he helped found India's first liberal arts institute, Ashoka University.
Gupta earned his MBA from Wake Forest in 1992. Twenty-five years later, he spoke at the business school's graduate hooding ceremony and reminded everone, "You are not here to serve yourself alone; you have to contribute to society, and entrepreneurship is your very powerful tool for that."
The following day, he was given an honorary degree, the Doctor of Laws, which is frequently given to honorees who are leaders in the business world. Wake Forest recognized Gupta for his thoughtful approach to business management, commitment to social responsibility and global citizenship, and belief in values-driven leadership. The university considers all of its students to be future business leaders. What could be more inspirational than for them to hear these words from someone who has lived them, who has transformed a company, who has improved millions of lives through social initiatives?