Alice Treviño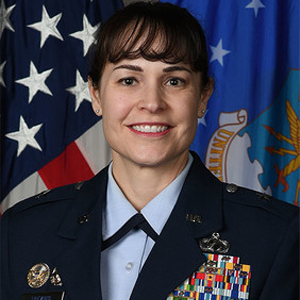 Brigadier General, United States Air Force
Honoree Year:
2019
Alma Mater:
Naval Postgraduate School
Graduate School of Business and Public Policy
United States
Area of Impact:
Public Service or Military
Successfully cultivating economic development in Afghanistan and leading positive change at the U.S. Department of Defense, Alice Treviño has inspired innovation and fostered professional development among her peers.
Alice Treviño, Naval Postgraduate School (NPS) MBA class of 2007, stands out among fellow alumni and peers as one of the U.S. Department of Defense's (DOD) foremost acquisition leaders and innovators.
Treviño innovated within the DOD and has been a positive source of change for global business. As the DOD's senior contracting official in Afghanistan, Treviño led a local sourcing initiative where she infused 3.5 billion USD into the Afghan economy, spurring industrial growth, cultivating regional supply networks, and building countless new job opportunities for Afghan men and women. Later, while commanding the Defense Contract Management Agency's western region, Treviño led a process re-engineering effort that saved more than 300 million USD in taxpayer money and increased capacity by 30 percent.
In her current role as commander of the U.S. Air Force's Installation Contracting Agency, Treviño drives the evolution of acquisition policy and processes, and is a key architect for federal-wide implementation of category management practices to improve end-to-end supply chain management. In each of these instances Treviño has led positive change for the DOD and its global business partners. She also continues an active program of engagement with the Naval Postgraduate School's Graduate School of Business and Public Policy, its faculty, and its students.
Treviño is a staunch supporter of American small business and has made great strides in opening new business opportunities to small firms in defense and commercial markets. As commander of a 110-member organization providing contracting support for the U.S. Air Force's education and training mission, Treviño bolstered small business involvement in the amount of 450 million USD. Her game-changing performance and recommended process improvements were instrumental to her unit earning the Secretary of the Air Force Small Business "Beyond Goals" Outstanding Squadron Award.
Her efforts to promote small business continue to generate new opportunities for these firms. In her current command at the Air Force Installation Contracting Agency (AFICA), her small business program has led to more than 1 billion USD of work for small firms and has garnered opportunities for businesses across the nation.
In addition to spurring domestic economic growth, Treviño has proven herself a leader in international and societal affairs. She was the first active-duty Air Force Statecraft Symposium Fellow, sponsored by the United States Supreme Court and Department of State. Her career stands as a shining example of positive societal impact both domestically and internationally.
A noteworthy example of Treviño's efforts to educate and inspire future business leaders is the program she has instituted to develop competencies in entrepreneurship and innovativeness within her 700-member workforce at AFICA. A majority of the professionals under her command possess five or fewer years of business experience yet are faced with the challenging task of leading success across business, mission, and public policy objectives while navigating complex and often unyielding acquisition rule sets.
Among those more experienced in the workforce, many have risen within a federal acquisition environment that has favored risk-avoidance and often failed to engender innovation, novel thinking, and change. Recognizing the importance of this business skill set to the organization and to its workforce's development, Treviño set out to institutionalize a spirit of change within AFICA. She did so through a deliberate program of personal and organizational development.
One key component of her program has been messaging, both direct to workforce members at all organizational echelons and also downward through the ranks, to cultivate an organizational climate that rewards those who identify and seize on improvement opportunities. She also established a visible recognition program for AFICA's entrepreneurs, building a cadre of ""AFICA change agents." Treviño's program has inspired many AFICA members to lead change efforts, which collectively saved more than 334 million USD in her first six months of command alone. But most importantly, she has educated and empowered young leaders, developing them to think and act innovatively.
Alice Treviño is a member of Beta Gamma Sigma, the international business honor society recognizing top performing students from AACSB-accredited schools.