Sima Kamil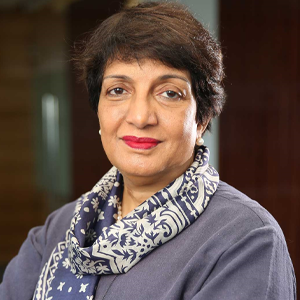 United Bank Limited
Honoree Year:
2018
Alma Mater:
Kingston
Kingston Business School
United Kingdom
Area of Impact:
Diversity and Inclusion
As the first woman CEO of United Bank Limited in Pakistan, Sima Kamil is breaking down stereotypes and blazing new trails for female professionals in her homeland.
Sima Kamil is a shining example of how a woman can break down stereotypes and stand for diversity in a part of the world more commonly associated with patriarchal norms and values. Moreover, while doing so, she can be successful both on a personal and professional level, promoting diversity and inclusion through her own achievements.
To appreciate Kamil's accomplishments, it is important to understand the environment in which she operates. Pakistan's society, like that in most emerging economies, presents some significant challenges when it comes to gender equality. In 2016, the World Economic Forum's global gender gap assessment ranked Pakistan 143rd (second to last) for the second year in a row.
Despite societal challenges, Kamil was appointed CEO of United Bank Limited (UBL) making her the first woman to lead a financial institution of its size in Pakistan in the country's 70-year history. Just prior to her move to UBL, Kamil was named in the publicationPakistan Todayas one of 18 women that made up Pakistan's Only Powerful Women in Business list (2017).
For her previous employer Habib Bank Limited (HBL), Kamil led the development and launch of Nisa, its Women's Market Program, which aimed to make HBL the leading bank for women in Pakistan. As a result, the Global Banking Alliance for Women (GBA) awarded HBL the title of GBA Women's Champion for the program, and Kamil has been featured on GBA panels to share her expertise in implementing a women's market program.
Kamil was also one of three female corporate leaders invited by the Pakistan Stock Exchange to perform the opening bell-ringing ceremony in an expression of solidarity with the cause of promoting women's inclusiveness and mainstreaming in top corporate leadership positions.