Kelly Davies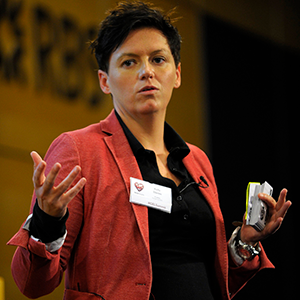 Founder and CEO, Vi-Ability
Honoree Year:
2018
Alma Mater:
The University of Liverpool
Management School
United Kingdom
Area of Impact:
Athletics
Former Arsenal and Liverpool Ladies footballer turned social entrepreneur, Kelly Davies transforms struggling sports clubs into viable businesses and thriving community centers, impacting youth and addressing social challenges in education, employment, and health.
Kelly Davies is the founder of Vi-Ability, a social enterprise that works with young people to help turn struggling community sports clubs into viable businesses and thriving community centers. A former Arsenal and Liverpool Ladies footballer, Davies came up with the idea for Vi-Ability while writing her MBA dissertation.
Her mission is for sports to be seen not just as a fun activity but also as a cost-effective tool that can have a lasting impact on society by addressing national political agendas in areas such as education, employment, and health.
Relying on sporting and business expertise, Vi-Ability develops youth programs that use sports as a starting point to motivate young people to contribute to their communities and learn how to be entrepreneurs. The organization also helps sports clubs run like a business in order to achieve financial surpluses and create jobs within the community.
To date, Vi-Ability has changed the lives of over 5,000 people by helping them gain employment and equipping them with recognized qualifications and soft skills. The organization has worked with sports clubs in England, Wales, Ireland, Spain, Portugal, Sweden, Italy, and India. Vi-Ability also has reinvested 2.8 million GBP (nearly 4 million USD) back into local communities in these countries. Davies received the Big Society Award from the U.K. prime minister in 2014 for tackling youth unemployment and creating commercial sustainability in football clubs, and in 2015 Vi-Ability was named Social Enterprise of the Year for both the United Kingdom and Wales.
Davies relied on her MBA knowledge and her experience as an international footballer to design a number of programs to help young people turn struggling local sports clubs into thriving financially stable businesses, which ultimately benefit the community. For example, the Run the Club program introduces students to the commercial management of sports clubs and teaches them to make a positive difference through social action.
Davies also developed Football CEO, an entertaining app designed to teach users to manage a football club by putting them in the "hot seat." Users have to manage staff—from program sellers and kit coordinators to the commercial director, show visionary leadership, deal with day-to-day issues, and negotiate sponsorship contracts all while keeping the fans happy. Proceeds from the app help fund Vi-Ability training programs in disadvantaged communities in the U.K. and abroad.