Savitha Sridharan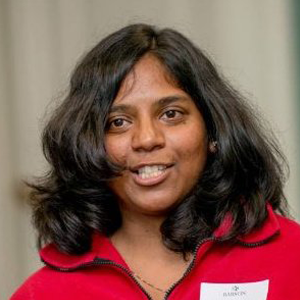 Founder and CEO, Orora Global
Alma Mater:
Babson College
F.W. Olin Graduate School
United States
Area of Impact:
Social Enterprise
Savitha Sridharan is the founder and CEO of Orora Global, a for-profit social enterprise that provides rural and urban communities globally with access to reliable, renewable energy. With offices in Boston and Durham, North Carolina, USA, Orora has leveraged state-of-the-art technology to develop a suite of products—all solar powered, to present impoverished individuals and communities with energy solutions.
Unique to Sridharan's work is a commitment to empowering women. Under Sridharan's leadership, Orora has created a training program in which the company hires and trains women from rural villages to sell Orora's products and in exchange make a commission, thus also helping to build strong partnerships with the communities they serve. Also worth noting is that Sridharan has been successful in an industry sector—energy—that is largely dominated by men.
Through her business venture Orora Global, Sridharan is addressing a complex global problem: providing a low-cost solar solution to help power homes in rural communities. Orora's products—home lighting systems, solar rechargeable lanterns, and clean cook stoves—provide lighting, cell phone charging, fan, and clean-cooking options for individuals and families in impoverished global communities.
Sridharan was one of just 1,000 students from colleges and universities across the U.S. to be selected as a participant in the Clinton Global Initiative University (CGIU). Her CGI "Commitment to Action" focused on eliminating the use of kerosene lamps in 10 rural Indian communities due to significant safety concerns as well as high costs for firewood and kerosene. Sridharan and her team were successful in achieving this goal in just 15 months.
One of the hallmarks of Orora is the empowerment of women in rural areas as microentrepreneurs, representing and selling the product within their own communities. Sridharan is not only bringing solar power to the global population, she is bringing women power as well. As Orora grows and serves as a model for social enterprises around the world, Sridharan continues to stay focused on her impact—one mile at a time. Her motto, "Run when you can. Walk if you have to. Crawl if you must, but just never give up," exemplifies her commitment to creating economic and social value. Under her leadership, Orora Global is having a positive impact on society.
Sridharan has received numerous accolades for her work and impact on society. Examples include the following:
"One of the 30 Best Worldwide Projects" by Gifted Citizen, an international award given to ideas and social entrepreneurs that can change the life of 10 million people
Inc. magazine's "Top 8 Coolest College Startup in North America"
Grand prize winner at Mass Innovation Nights, featuring female founders