Jonathan Mildenhall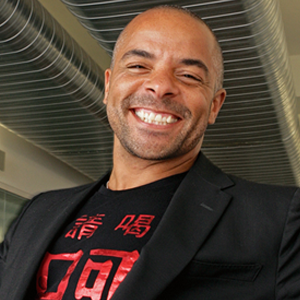 Chief Marketing Officer, AirBnB
Alma Mater:
Manchester Metropolitan University
Faculty of Business and Law
United Kingdom
Area of Impact:
Consumer Goods or Services
Jonathan Mildenhall does not have the typical background of a top global marketing professional. Raised by a single parent in northern England public housing, Mildenhall has been a standard-bearer for those from underrepresented and/or mixed racial backgrounds. Through his drive, determination, and ability, he has overcome the odds that were stacked against him and is now chief marketing officer for Airbnb, where he is helping to create one of the world's first community-driven super brand. Prior to this, he was vice president for global advertising strategy and content excellence for The Coca-Cola Company for six years.
In 2016, Mildenhall was named to the Financial Times' top 100 Upstanding Leaders' List, a collection of leading ethnic minority executives in the U.S. and U.K. He was also listed at No. 14 on the 2015 Power List by PR Week and previously made the "pink list" (now the Rainbow List) of the most influential LGBT figures in the U.K. by The Independent. Mildenhall was chair of the Institute of Practitioners in Advertising (IPA) Diversity Community in the mid-2000s, during which time he sought to increase the number of African-American advertising workers in the sector.
Mildenhall has underpinned some of his best-known innovative advertising campaigns at Airbnb and Coca-Cola. While at Coca-Cola, the company won 30 Cannes Lions awards in 2012 and subsequently won the 2013 Creative Marketer of the Year. The company's campaigns "America the Beautiful" and "Small World Machine" received much acclaim, the latter centering on the division between the countries of India and Pakistan and encouraging citizens of those countries to interact through a drink machine. And at Airbnb, Mildenhall's 'Never a Stranger' campaign challenged the discomfort that many would feel about staying at a stranger's house. This sense of otherness was flipped into a positive, whereby staying in a home rather than a hotel enabled them to experience the 'real' life of the country, city or neighborhood. The advert concept reflects Airbnb's slogan: 'belong anywhere'.
Mildenhall sees the role of Airbnb as being a disruptor in the market, forcing the travel industry to re-conceptualize how they do business and market themselves. An example of this innovative thinking has seen Airbnb partner with Dutch airline KLM to allow KLM travelers to search for places to stay on Airbnb through the airline's website.
In the advertising and marketing sector, Mildenhall has been a standard-bearer for those from black and ethnic minority backgrounds. From a mixed-race background himself, he sees himself and the other senior figures in the business as role models. During his time as co-chair of the IPA Diversity Community, the number of agency staff from a minority background rose from 2 percent to 12 percent in four years. His concern at the lack of ethnic diversity at the recent Cannes advertising festival led him to express that he was "appalled" at the situation, and urged marketers to do something about it. In times of change, Mildenhall is a global leader who has proven capability to propel positive change through practice, activate ethical business advancement and act as a force for global real-world impact.