Gary Cohen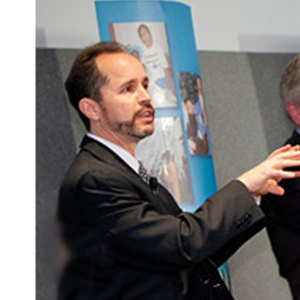 Executive Vice President, Becton, Dickinson & Company
Alma Mater:
Rutgers - The State University of New Jersey
Rutgers Business School - Newark and New Brunswick
United States
Area of Impact:
Healthcare or Wellness
Gary Cohen is executive vice president of Becton Dickinson and Company, a global medical technology firm with 29,000 employees in 50 countries. He is also president of Becton, Dickinson's Global Health function, and is acting CEO of GBCHealth, a coalition of companies dedicated to improving the health of workforces and communities worldwide.
Cohen is well known nationally and internationally for his outstanding work in global health initiatives and human rights, and is extensively engaged in collaborations across the public, private, and NGO sectors to address health needs in developing and emerging countries. He advises, advocates, and speaks on issues associated with global health, child immunization, HIV/AIDS, and health system strengthening in under-resourced and vulnerable populations, in various venues including the United Nations, World Bank, and the U.S. Department of State, and the World Economic Forum-Davos.
Cohen has dedicated his life's work to leading business efforts to provide cutting-edge technologies, medical products and devices, and on-the-ground best practices to improve global health initiatives; educating individuals, organizations, governments, and societies on limiting the spread of infectious diseases in the developing world; developing new financial models and identifying best business methods to support these critical efforts; and achieving specific, measurable goals in all of these endeavors.
Under Cohen's leadership, Becton Dickinson has implemented numerous important global health initiatives, including the strengthening of laboratory systems throughout sub-Saharan Africa, providing on-the-ground training to more than 2,500 lab technicians; ensuring sustainable access to CD4 (specialized white blood cell count) testing; improving tuberculosis diagnoses; supporting the establishment of Wellness Centers for Nurses affected by HIV; donating products for flu immunization campaigns in Laos, Uganda, and Nicaragua; and philanthropically supporting UNICEF's Maternal and Neonatal Tetanus Initiatives as well as programs to improve children's healthcare and access to clean water, sanitation, nutrition, education, and emergency relief.
As Acting CEO of GBCHealth and CEO of the MDG Health Alliance, Cohen has prioritized maximizing corporate sector participation in the U.N.'s Millennium Development Goals (MDGs) and Sustainable Development Goals (SDGs) and has tirelessly worked toward realizing worldwide targets for reducing maternal, newborn, and child deaths and advancing prevention, diagnosis, and treatment of HIV/AIDS, Tuberculosis, and Malaria. Under his leadership, GBCHealth assists hundreds of companies in the development and implementation of global health programs, including strategic alliance and public-private partnership creation, advocacy of best business practices, and identification of innovative financing and funding opportunities.
In 2010, Cohen personally founded Together for Girls, an organization that comprises five U.N. agencies, the U.S. and Canadian governments, several private sector organizations, and more than 15 implementing country governments in Africa, Asia, and the Caribbean. As a global public-private partnership, its mission addresses the human rights and public health impacts of sexual violence against girls.
Furthermore, Cohen actively serves as board chair of the Center for Disease Control Foundation, chair of the CDC/Corporate Roundtable on Global Health Threats, board director of the U.S. Fund for UNICEF, and advisor to the Clinton Global Initiative. His humanitarian work has been recognized by organizations including Medical Education for South African Blacks, the U.S. Fund for UNICEF, and the Nyumbani Home for orphaned HIV-positive children. Cohen is a proud Rutgers alum who served on the university's board of trustees and who actively supports Rutgers Business School's strategic objectives, curricular and program innovations, and student-centered initiatives.