Let's Lead Boldly: Elevating the Value of Business Schools
Briefing | April 2023
This position paper advocates for the value of business schools globally and is the result of an in-depth analysis of business and lifelong learner needs as well as market drivers impacting the business education ecosystem. It includes insights and reflections from the AACSB Board of Directors, Innovation Committee, Business Practices Council, and other influential industry leaders.
AACSB acknowledges the many ways business schools deliver value within the industries and communities they serve. To further elevate and transform business education, AACSB offers potential innovative pathways that business schools can explore to strengthen their unique value propositions based on strategy, markets served, areas of expertise, and competencies. Visit Pathways to Innovation: An Exploratory Guide for Business Schools, a complement to this position paper.
Through the collective voice of AACSB and business schools around the world, and in partnership with business, lifelong learners, and society, let's lead boldly!
The Value Proposition of Business Schools
Are business schools delivering on the value they promise? Have they kept pace with the myriad social, economic, and technological disruptions? Is the world better because business schools are in it? These and other complex, far-reaching questions require business schools to evaluate the types and ways they deliver value to their stakeholders—learners, business, and society.
In early 2023, AACSB's Innovation Committee endorsed the development of a reinvigorated value proposition for business schools and the role they play within the business education ecosystem. It is intended to inform and inspire audiences by highlighting business education's role in career advancement for learners, ensuring businesses thrive, and reinforcing that doing good in society is good for business.
The value proposition for business schools reads as follows:
Our world needs leaders—people with the vision, determination, and knowledge required to make a positive and meaningful difference in all areas of society. The world's business schools are where leaders are developed, inspired, and emboldened.

Every business school is unique, but each one aspires to advance economic well-being while strengthening its commitment to purpose, people, and planet.

Through teaching and mentoring, research, collaborations with businesses, and partnerships across academic disciplines, business schools create and share knowledge and insights at the speed of business. They serve as catalysts that have the power to transform companies—and the world.

By offering equitable access to learning and career opportunities for learners with diverse backgrounds and experiences, business schools help ensure that the next generation of leaders truly reflects the world we live in, and the world we all want to see.

Let's Lead Boldly.
Some aspects of the value proposition represent the long-standing attributes on which business schools were founded. After all, business schools have created influential leaders who have transformed companies, generated prosperity for huge segments of society, and contributed to positive societal change. Business leaders have also faced criticism for contributing to economic and social inequities, among other challenges confronting our world today. The new value proposition shows how business schools develop and inspire leaders who can effect positive change—with organizations and beyond.
The Role of Business Schools
Business schools are multifaceted institutions that create meaningful change and innovation. Their ability to do this rests on three pillars:
What They Do
Business schools develop talented and diverse leaders.
Business schools offer people from all backgrounds and all geographies the opportunity to acquire the business acumen and analytical problem-solving skills needed to achieve their dreams and grow into bold, successful leaders.
How They Do It
Business schools impart new knowledge and build strong partnerships.
By creating and sharing knowledge, and with a spirit of collaboration and open dialog, business schools are incubators for new ideas, innovative strategies, and actionable insights.
Why They Do It
Business schools create positive change.
Business schools develop leaders with the analytical skills and strategic vision to imagine and implement practical business solutions to the pressing challenges facing our world today, in the corporate realm and beyond.
Communicating to Stakeholders
Business schools serve the needs of several stakeholder audiences: students and lifelong learners, businesses, educators, and society more broadly. Whether inspiring students to find their purpose, providing top talent to organizations, reinventing business, or solving societal challenges, business schools are a force for good in the world.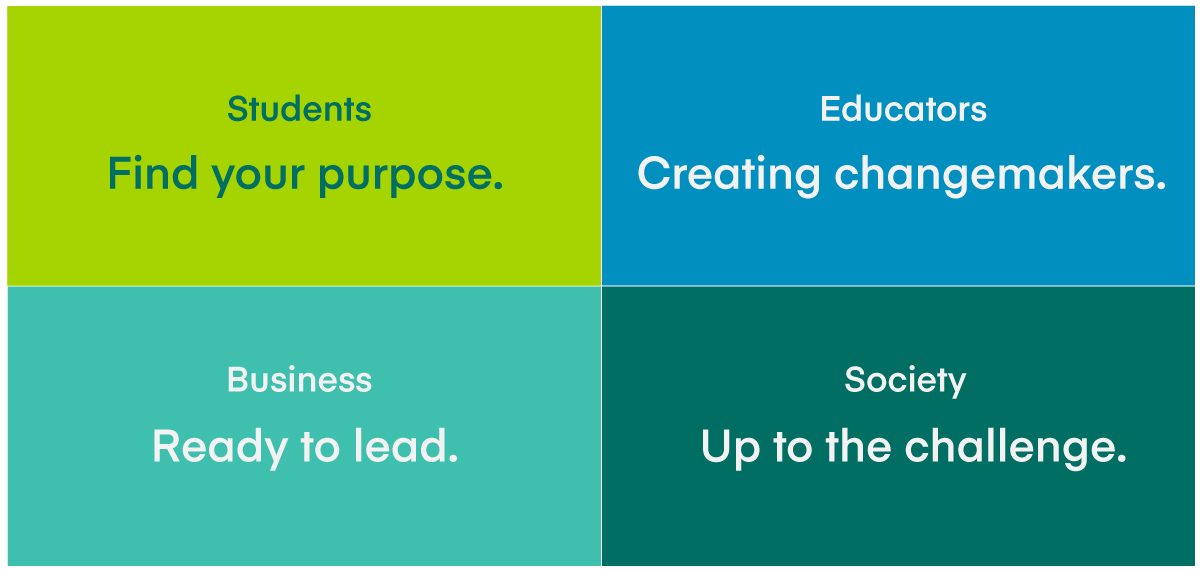 Students and Lifelong Learners: Finding Purpose
Students today are committed to building a rewarding career and are equally committed to having a positive impact on the world. Business school prepares them for both. At all points of learners' careers, business education can provide them with the leadership mindset and new knowledge needed to take on business challenges, navigate new technologies, and contribute to overcoming societal problems. In person or virtually, through experiential learning, and by building meaningful connections, business schools prepare students to impact the bottom line while tackling the major issues of our time. With a business education, there's no trade-off between doing well and doing good.
Jeffrey Brown, Dean, Gies College of Business, University of Illinois Urbana-Champaign

Business and Business Leaders: Ready to Lead
Business schools develop leaders who are prepared on day one to solve challenges and have a positive impact on any organization. More than competencies, business schools instill an entrepreneurial mindset in students, nurture future leaders who can motivate teams, and develop the keen judgment and analytical thinking to continually reinvent business and transform the world.
Business Educators and Faculty: Creating Changemakers
Business school faculty are the bridge to mentoring and nurturing the next generation of leaders, people with the agility and innovative mindset needed to transform businesses and the inspiration and data insights needed to make a positive impact on society. By advancing industry knowledge through intellectual contributions, encouraging experimentation, and developing problem-solving skills, business schools are laboratories for new ideas and incubators for entrepreneurs.
Society: Up to the Challenge
The challenges facing our world are bigger than any one person, one industry, or one field of expertise. Developing solutions will require specialized skills, new sources of knowledge, cross-disciplinary research, close collaborations, and, above all, bold leadership. Partnering with businesses, NGOs, and governments, business educators are at the forefront of leading sustained, positive societal change and ensuring that businesses and economies thrive.
Delivering on Market Expectations
AACSB recognizes and celebrates the diversity of business schools across its network. As unique as the markets they serve, so are the innovations that business schools pursue in creating value. But with the incredible rate of technology advancement, along with unprecedented socioeconomic, environmental, and geopolitical change, it is evident that the shelf life of innovation is decreasing; what is innovative today will likely not be innovative a year or so from now. Business schools that embrace a culture that nurtures ongoing innovation and prioritizes strategic partnerships comprising a variety of players can Lead Boldly in ways that create relevant solutions to their unique market needs. The Pathways to Innovation: An Exploratory Guide for Business Schools presents six strategic innovation opportunities for business schools to explore as they aim to align with market expectations of business education.
Alex Triantis, Dean, Johns Hopkins Carey Business School
Vice Chair-Chair Elect, AACSB 2022–23 Board of Directors
What the Market Expects of Business Schools
Below are market expectations across six thematic areas where business schools can continue to innovate and drive value. Although business schools can provide value in other ways, these six value drivers highlight key areas that surfaced throughout AACSB's Innovation Committee and thought leadership work.
Visit Pathways to Innovation: An Exploratory Guide for Business Schools to uncover innovative opportunities for business schools to address market expectations.