Project-Based Partnership for Regional Development
Can a business school help a whole nation achieve economic growth? The business engagement unit at the University of South Australia says yes.
The country of Papua New Guinea has an ambitious goal: to be ranked in the top 50 in the United Nations' Human Development Index. To achieve this feat, the PNG government is aiming at several targets: human capital development, improved infrastructure networks, and more efficient delivery of public goods and services.
Because PNG is one of the nearest neighbors and a key regional partner to Australia, the Australian government is deeply invested in helping the smaller country overcome the formidable challenge it faces in achieving these goals. The two governments have signed a Comprehensive Strategic and Economic Partnership agreement, and the Australian Department of Foreign Affairs and Trade has established a program aimed at enabling economic growth in PNG. A key mechanism is the Australia Awards, which provide opportunities for emerging leaders from developing countries to undertake courses and professional development in Australia.
The University of South Australia (UniSA) has partnered with the Australia Awards to deliver a postgraduate certificate program in human resource management (HRM) to members of the PNG government and leaders from private companies. Known as the AAPNG Short Course, it is a customized version of a program created by UniSA Strategic Partnerships, an industry engagement unit within the university's business school that provides executive education, degree, and nondegree programs to industry partners.
Through the AAPNG Short Course, PNG's middle and senior HR managers not only gain valuable skills, but also develop projects designed to improve HR policies at their own organizations—and contribute to national development. School officials described the program in a submission to AACSB's 2021 Innovations That Inspire initiative.
A Project-Based Program
So far, the AAPNG Short Course has been held twice, enrolling about 25 people each time. The first group of participants, who attended the pilot program in 2017, comprised only public sector employees. However, about 40 percent of the people in the 2018–19 cohort were private sector employees, because the PNG government wanted to promote greater communication and cooperation between these two groups.
Participants are funded by scholarships from the Australia Awards that cover program fees, travel, accommodations, industry visits, and networking and socializing activities. To attract a range of participants, the Australian High Commission in PNG and the PNG National Department of Personnel Management deliver information sessions in the PNG capital of Port Moresby, as well as other regions of the country, including remote ones.
In their applications, candidates must include brief overviews of projects they want to work on during the course. They briefly describe the importance of the projects to their organizations, and any resources or assistance they might require from the university, industry partners, or government agencies. While the final candidates are selected by AAPNG based on the kind of impact they could have on their organizations and communities, participants also must meet UniSA's standards for enrollment.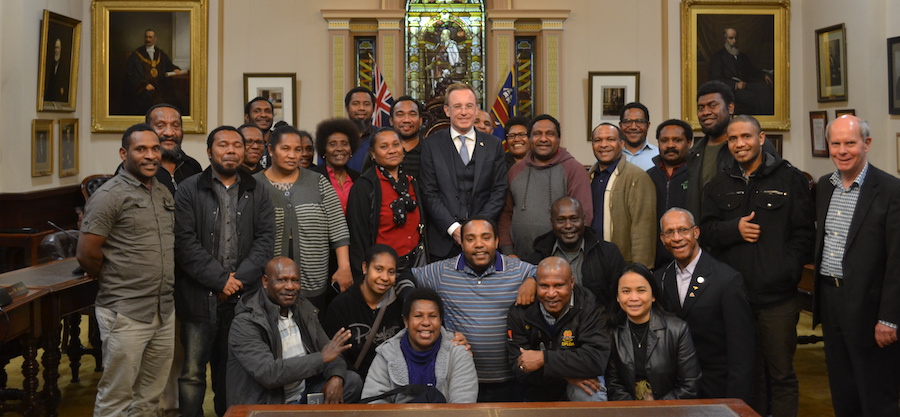 As part of learning about the Australian government, AAPNG participants meet with Martin Haese, Lord Mayor of the city of Adelaide (center).

Once they're admitted to the program, participants meet for the first time in a five-day pre-course workshop held in PNG. Here, they get an overview of the program and receive exercises to help them prepare for the 12-week immersion that will be delivered on the UniSA campus in Adelaide. They also give short presentations about their proposed projects, an activity that often leads participants to form small teams to work on similar ideas.
Five or six weeks after this preparatory workshop, participants gather in Adelaide for about three months. During this immersion phase of the program, they study topics such as power and influence, values, workflow, workforce planning, performance management, workplace learning and development, recruiting, forecasting, and planning and budgeting.
A course designer and two co-leaders oversee all aspects of the program, from coordinating lecturers and guest speakers to arranging industry visits and networking events. As participants develop their understanding of their projects, the co-leaders often bring in additional industry specialists who share examples of similar projects that have been implemented in Australia.
After the 12-week immersion, participants return to PNG to continue working on their projects independently, although senior faculty on the UniSA Strategic Partnerships team facilitate regular meetings with the participants to monitor their progress. Eight to 10 weeks after they return to PNG, participants head to Port Moresby for a post-course workshop. Here, they deliver presentations on the status of their projects and receive feedback from other participants, course leaders, and key AAPNG staff.
A Series of Successes
The ultimate goal is for participants to present projects to top executives and get the go-ahead to put them in place. "The implementation rate of the Short Course Projects is just over 90 percent, with some implemented within three to six months after the program ends," says Lindsay Ryan, business partnerships manager and co-course leader.
To date, 28 group and individual projects have been executed. The most ambitious one involved eight participants who formed a team that spent three years developing an online capability needs analysis tool for the PNG government, linked with the 70-20-10 Learning Model. This tool provided a standardized, flexible, cost-effective method for determining development needs nationally and regionally across the PNG government. It was adopted by the PNG National Department of Personnel Management in May 2020 and is now required to be used by all public sector organizations across PNG.
---

The ultimate goal is for participants to present projects to top executives and get the go-ahead to put them in place. Ninety percent of the projects from the course have been implemented within six months after the program's end.


---
Other successful projects have included:
A staff performance appraisal system developed by four senior PNG public servants.
A workforce development plan for provincial administrations that identified the roles, activities, and responsibilities of all employees. The project, which was created by a pair of participants, also focused on succession planning and was linked to training and development strategies.
A number of organizational learning and development plans. These are generally instigated by participants whose organizations have no formal approach to organizational learning and development and who realize they can work together to design common frameworks they can tailor to their own organizations.
A Network of Support
Because the participating governments want to see the impact the program is having, UniSA provides reports to the Australian and PNG governments at key milestone moments. These include an interim report after the fourth week of the 12-week program and a more comprehensive one at the end of the immersion. The final report also includes a survey of participants, as well as a summary from the course co-leaders on the status of the projects and the likelihood that they will be implemented.
To help ensure that projects will be successful, UniSA course co-leaders maintain regular contact with many of the participants once the program is over, acting as sounding boards and providing ongoing advice. "We believe this contact is important for their learning and engagement," says Ross Morriss, director of Strategic Partnerships. "We are pleased to note that all the individuals we maintain regular contact with have had career advances to middle, senior, and executive roles."
Participants also are urged to network with each other as a way to improve their odds of success. For instance, on the very first day of the pre-course workshop, they are encouraged to install two social media apps. At the post-course workshop, graduates from previous programs also are in attendance, and all the cohorts have opportunities to mingle at a networking event. "We actively aim to connect participants where we believe there is synergy between projects," says Morriss.
Some who complete the program also choose, at their own expense, to return to Adelaide to attend a UniSA graduation ceremony so they can receive their certificates from the chancellor. After the ceremony, the course co-leaders take participants on tours of Adelaide and host a networking dinner for the participants, their partners, and course lecturers.
A List of Recommendations
For other schools that want to initiate similar collaborative programs with an international partner, UniSA officials say it is essential to learn about the people and culture of the other country. "This means understanding its key industries, economic drivers, significant physical or geographical features, and religious beliefs," says Ryan. "Similarly, when you're hosting a large cohort of participants from an international location, take the time to show them around so they have an opportunity to learn about the culture and people of your country."
---

To initiate a collaborative program with an international partner, a school must learn about the people and culture of the other country.


---
When developing the program, Ryan says, schools should clearly define the learning goals and expected outcomes. They also should integrate a work-based project into the program so participants can apply their new knowledge. Finally, they should develop a schedule that includes formal lectures complemented by seminars, workshops, guest speakers, and industry visits. "This approach delivers a holistic learning experience that helps the participants develop their understanding of academic theories and concepts," Ryan says.
Morriss adds that course leaders always should remain student-focused and flexible, maintain open communication, monitor course deliveries to look for ways to improve format and content, and develop trust and engagement with participants.
A Look to the Future
The success of the AAPNG program has left all the participating institutions eager to continue it, but the ongoing impact of COVID has put further iterations on hold, as both Australia and PNG have largely closed their international borders. In 2020, UniSA considered a virtual version, but internet access is unreliable in many parts of PNG, which would have made it impossible to include participants from remote regions of the country. With these types of programs, school officials believe it's important for participants to come together physically to connect, network, and develop long-term working relationships with each other as well as with the Australian Government and industry leaders.
Meanwhile, the virus has delayed the plans of some graduates of previous programs. Three participants from the 2019 cohort were awarded scholarships to study for their master's degrees in human resources management at UniSA Business beginning in March 2020, but COVID-19 made that impossible. Program coordinators anticipate that these students will commence their studies in March 2022.
Despite the delays, UniSA officials look forward to future collaborations, in large part because the university's mission includes preparing global leaders from all backgrounds to help solve the challenges of industry and society.
"This commitment runs throughout our programs and ensures we make a positive contribution to the economic, social, and cultural prosperity of our communities," says Morriss. "The project-based HRM program for PNG is an example of one of our enterprising partnerships, where we tackle a range of projects and deliver an enduring legacy of public value through our collective efforts. It is a perfect example of our vision, strategic priorities, and culture in action."