The American University in Cairo, School of Business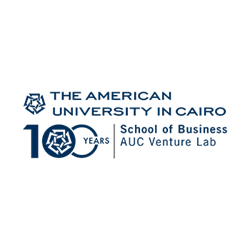 AUC Venture Lab FinTech Accelerator
The AUC Venture Lab FinTech Accelerator supports Egypt's commitment to financial inclusion and recent focus on digital finance through a customized 16-week program that accelerates high-growth, innovation-driven startups through intensive trainings, specialized coaching, industry mentorship, networking and investment opportunities, access to facilities, and seed funding. 
Call to Action:
The banking and financial services sectors remain a niche opportunity in a region with a population more than 100 million people, and where only 10 to 15 percent of the population banks, and 67 percent of the population still relies on cash, according to World Bank estimates in 2018. With Egypt's government committed to financial inclusion, and with the recent focus on digital finance, financial technology (fintech) is emerging as one of the key vertical markets in the country's entrepreneurship ecosystem.
The demand and need from the market side is growing exponentially, as we have seen in emerging companies like Fawry, a pioneering e-payment network in Egypt, offering financial services to consumers and businesses through more than 125,000 locations and a variety of channels. Fawry started out unlicensed and pushed their way toward license through the fast growth and the numerous transactions that were being processed, highlighting the opportunity. We used the appearance of such a disruptive model as an opportunity to entice forward-thinking banks to capture and champion such disruptions, along with American University in Cairo (AUC) Venture Lab's knowledge of sparking and bringing innovations to market.
Innovation Description:
The AUC Venture Lab FinTech Accelerator incubates high-growth, innovation-driven startups that are selected through a rigorous process. We conduct a four-layered selection process, starting with the application, followed by an in-depth interview to ensure the accelerator's team fully understands the entrepreneur's intentions for the startup. The applications are filtered to select the most feasible candidate within the current frameworks and market opportunity. The selected candidate joins a three-day boot camp training, giving the entrepreneurs a chance to understand the accelerator's background and at the same time give the accelerator a glimpse of the entrepreneur's level of dedication and team dynamics.
We select the satisfactorily performing companies that do not raise any major issues to a final selection panel comprising the accelerator director, Commercial International Bank (CIB) Egypt officials, a representative of the International Finance Corporation (IFC), an investor, and a mentor. Selected fintech startups receive the following:
Business training workshops delivered by AUC faculty, industry experts, and experienced entrepreneurs
Fintech entrepreneur mentorship, provided in collaboration with local and international finance and technology experts
Operational business coaching by consultants to encourage meeting milestones
Networking events to connect entrepreneurs with investors and the business community
Seed funding in the form of grants to selected startups to support their product/service ideation, design, and prototyping
In parallel, outreach activities such as information sessions, inspirational talks, ideation workshops, and hackathons are conducted to address market problems provided by financial institutions. This contributes to increasing the pipeline of fintech startups.
Innovation Impact:
To date, the program has graduated 32 fintech startups (10 of which are currently operating in the market) and engaged and trained 100 financial-sector professionals to mentor entrepreneurs and help them maneuver the market. The program regularly hosts two roundtables each year with startups, financial-sector officials, regulators, and investment funds. AUC Venture Lab also annually offers two free ideation workshops, two hackathon events, and a three-day entrepreneurial bootcamp for students around a fintech theme to raise awareness. These initiatives have engaged more than 150 individuals to date.
As the first program of its kind in Egypt, our work has inspired a number of indirect initiatives: the AUC School of Business launched fintech concentration for its MS in finance program to complement and provide necessary skills to catalyze the market growth even faster; CIB launched a venture capital arm dedicated to startups; and other dedicated fintech programs have launched, such as Startup Bootcamp.