Clark University, Graduate School of Management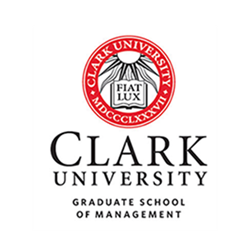 Clark I&E Ventures
Clark I&E Ventures is the home to all student innovation and entrepreneurship activities and businesses at Clark University, including retail space, a thrift store, alumni engagement, and seed funding opportunities.
Call to Action:
The Graduate School of Management (GSOM) is housed within Clark University, a small liberal arts research university, socially focused and located in an ethnically and economically diverse neighborhood known as Main South in Worcester, Massachusetts. As an AACSB-accredited business school, GSOM thrives as a diverse community of learners, researchers, and business professionals who prepare future leaders to think critically, manage collaboratively, and contribute to their organizations and society. Under its purview is the Innovation and Entrepreneurship (I&E) Program, whose mission is "to discover, cultivate, and propel the innovative and entrepreneurial endeavors of Clark students, regardless of major or field of study."
Whether a student is motivated to solve social issues or to start a financially profitable business, the I&E Program supports the progression of each individual, for the betterment of the student and the shared community. With this in mind, GSOM saw an opportunity to evolve across disciplines by offering entrepreneurial students a chance to begin, grow, and implement businesses and social ventures that not only expand student knowledge and skill in entrepreneurship but also engage with and support the community.
The creation of Clark's I&E Ventures for undergraduate students formalized GSOM's and the university's commitment to developing student innovation and entrepreneurial endeavors, and enhancing the lives of both liberal arts and business students.
Innovation Description:
Clark's I&E Ventures include the Clark Collective, Community Thrift Store, Entrepreneurship Club, and Ureka Challenge. The Clark Collective is a gathering venue for students to showcase their businesses on campus and with the neighboring Worcester community. Its premise is to give up to 10 student business owners and social entrepreneurs the opportunity to experience a retail storefront to sell their products and services or promote their social venture.
Students from across disciplines—including management, economics, and psychology—formed a six-person student board of directors to market, grow, and improve the collective. The collective shares a retail storefront space with the Community Thrift Store, which is fully managed and staffed by students. During the store's remodeling in 2019, the board developed a new business plan and the group created an e-commerce website for the first time in its history. By the end of 2019, the collective's student vendors and the thrift store all reported revenues exceeding their baseline sales projections.
The Entrepreneurship Club and Ureka Challenge allows students to collaborate with each other, as well as learn from and be mentored by community leaders and Clark/GSOM alumni. The club's engaging events and inspiring activities allow members and non-members to explore initial innovative concepts or create more formal business plans within a supportive, team-based environment. The Ureka Challenge currently provides 100 USD in seed money to 15 students who, over the course of the academic year, build their businesses and ultimately compete for additional awards up to 1,000 USD.
Innovation Impact:
The formalization of Clark's I&E Ventures was met with tremendous support across the university. The thrift store is an integral part of the Worcester and Clark communities. At 10 years old, it is the longest-running I&E venture, and it recently received a revamping of its space, inventory, and pricing. Completed with the needs of the community in mind, the makeover was spearheaded by the students who manage and run the store. They are continuously mindful of who they serve, as well as of thrifting trends, to make the store a standout among university student ventures.
The Clark Collective has proven to give students more than just a face-to-face retail experience. They also partner with businesses in Worcester and beyond, to help grow their brand and expand their customer base. As a result, students receive advice from working professionals in established companies who want to see young entrepreneurs succeed. One student who makes jewelry recently partnered with a large company in Puerto Rico; it now carries her product line.
The Entrepreneurship Club and Ureka Challenge have brought greater student and alumni involvement to Clark. The challenge has grown in the number of students involved in the competition, and alumni who once acted only as judges at the final competition now act as business mentors. Similarly, the club's expanding activities bring together students who have established businesses or entrepreneurship aspirations, as well as those who simply have an idea but are unsure of where to start.
With each venture managed by the students, the Clark Collective, Community Thrift Store, Entrepreneurship Club, and Ureka Challenge all inherently expand the business and entrepreneurial skill sets of each involved student.
Reference Links: