Case Western Reserve University, Weatherhead School of Management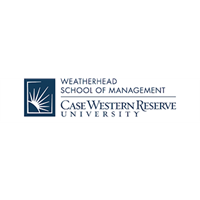 Forming Global Cohorts to Support Reconstruction
To support countries experiencing political or other crises, cohorts of students from developing countries participate in an undergraduate seminar to support entrepreneurial growth post-crisis.
Call to Action:
Case Western Reserve University (CWRU) developed its Beyond Silicon Valley entrepreneurship program beginning in 2014 when it launched the Beyond Silicon Valley: Growing Entrepreneurship in Transitioning Economies massive open online course (MOOC) on Coursera. This course has attracted over 175,000 registered students on Coursera from 190 countries and has subtitles in 16 languages. In 2016, CWRU offered Beyond Silicon Valley as part of its Seminar Approach to General Education and Scholarship (SAGES) program. CWRU undergraduates took Beyond Silicon Valley alongside non-CWRU students on the Coursera platform for the first two years it was offered. Students were asked to apply the lessons from a Cleveland case study in supporting the growth of entrepreneurship to any community in the world.
In 2018, professor Michael Goldberg, after being contacted by a Beyond Silicon Valley student from Damascus, Syria, decided to focus the seminar specifically on applying the lessons from the course toward ways Syria might be able to strengthen its entrepreneurial ecosystem post-crisis. Working with this student based in Damascus, a cohort of more than 40 Syrian entrepreneurs was recruited to take the course alongside the CWRU students. CWRU students had to interview a Syrian entrepreneur for their midterm assignment and make final recommendations to representatives from the United Nations Development Program (UNDP) in Damascus.
Speakers who were engaged in supporting startups post-crisis in other countries including Kosovo, participated in the discussions. Goldberg recently taught the course to a cohort of students from Venezuela with a similar collaboration model.
Innovation Description:
The Beyond Silicon Valley seminar integrates several technology platforms to encourage communication and collaboration between CWRU and international students. We set up a special cohort on Canvas, the learning management platform CWRU uses, to allow students to review their peers' assignments and participate in discussion forums. We also have a WhatsApp group set up for all the participants in the course. We use Zoom to open the sessions to our international participants and include international speakers. We also set up Facebook groups for the cohorts and encouraged students to connect with each other on LinkedIn. We have found that taking advantage of multiple platforms is critical in increasing student engagement.
We created certificates signed by the CWRU professor for our non-CWRU student participants in the seminar. Even though we are not offering course credit for participation, we found that students appreciate getting a certificate to highlight the hard work they put into participating in the course. We noticed that some referenced their course participation on their LinkedIn profiles.
Innovation Impact:
The student presentations to the UNDP in Damascus, Syria, in December 2018 were very well received. The UNDP representative whom we presented to also took part in the course as a student. The course attempted to provide practical recommendations that could be implemented in Syria post-crisis. Unfortunately, the situation in Syria continues to be very challenging for entrepreneurs. Several of the Syrians who participated in the cohort had fled the country, and it is uncertain when they will be able to return.
We have a dynamic group of Venezuelan participants in our fall 2019 cohort who are facing different but also daunting challenges given the economic crisis there. It is hard to focus on "post-crisis" recommendations when it is unclear when the crisis will end and what political leadership might look like.
Perhaps the most lasting impact of the innovation is the relationships that formed between CWRU and the international students. Surprisingly few students had ever interviewed someone for a course before they had to interview a Syrian or Venezuelan entrepreneur in the cohort. We produced a short video on the Syrian collaboration in which several of the CWRU and Syrian students are interviewed about their experience in the course.
Reference Links: