Arizona State University, W.P. Carey School of Business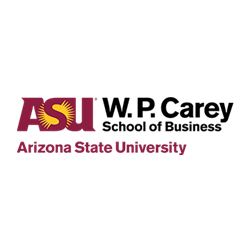 Interdisciplinary Applied Learning Labs
An immersive course pairs MBA and non-business graduate students with local organizations to solve real-world problems in fields such as biomedical engineering, mechanical engineering, social work, and public school financing.
Call to Action:
Three years ago, ASU's W.P. Carey School of Business revamped its Full-time MBA program to attract a more diverse student body and bring expertise from a wide range of fields. Based on feedback from alumni, current students, and recruiters from long-standing hiring companies, the school was looking for a way to prepare MBA students for the kinds of cross-functional ambiguity and decisions they would be forced to make in their careers—beyond the standard business disciplines of an MBA core. The Interdisciplinary Applied Learning Labs class was launched as part of the reconfigured Full-time MBA to pair business students with non-business master's students at ASU to learn from each others' perspectives; tackle complex, real-world problems; and develop critical thinking, decision-making, collaboration, and communication skills.
Innovation Description:
The semester-long Interdisciplinary Applied Learning Labs course first ran in 2017 with four tracks:
Biomedical engineering, with teams collaborating on the development, marketing, or adoption of biomedical devices
Mechanical engineering, where students tackled a clean energy plan and presented it to the Tempe City Council
Social work, which presented ideas for improving the Department of Child Safety's work with outside agencies to help foster children
School financing, with students analyzing the Arizona Department of Education data and proposing improved distribution of 34 million USD to the state's 1,900 schools
The challenges were complicated and that was the point; complex problems are what W.P. Carey students will be ready to tackle. Throughout the project, students worked with other graduate students on the applied learning component and received real-world feedback when they presented their plans to stakeholders at the end of the semester. For example, three superintendents helped the students understand some further contingencies in their school funding plans. Conversely, students in the child welfare group thought of some low-cost solutions the professionals had not considered. Most importantly, students ended the course learning that there is no one way to solve a problem, and you find better solutions when you work collaboratively across perspectives. The labs are a core course for second-year students in the Full-time MBA program.
Innovation Impact:
In addition to positive community impact—ASU's host city of Tempe has relied on the class to develop marketing plans to increase walkability to its downtown and provide plans for a carbon neutral footprint by 2025—the course has fostered interdisciplinary thinking with students from the schools of design, engineering, law, public policy, and others. This unique learning opportunity not only teaches business students how to work with others from disparate backgrounds and to understand their perspectives, but also offers a rare chance for non-business students to apply foundational business skills and practices to their own studies and future careers, especially for those who might want to start their own business. In all, more than 300 business students have developed new skills while solving a community or business problem in real time, enhancing their leadership capabilities, encouraging innovation, and exploring the limits of what business can do.
Reference Links: