University of Minnesota, Carlson School of Management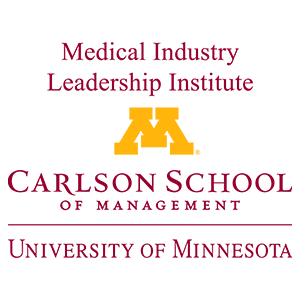 Medical Industry Leadership Institute
The Carlson School of Management's Medical Industry Leadership Institute aims to shape the future of the medical industry and drive innovation through cutting-edge leadership education, research, and market development.
Call to Action
The health of the U.S. economy rises and falls on the healthcare industry. Total healthcare spending amounts to roughly 18 percent of GDP, making it an undeniably key economic driver. This is true both nationally and within the state of Minnesota, where the medical industry has a strong presence in the state with respected organizations including the Mayo Clinic, Medtronic, Blue Cross Blue Shield, United Health Group, and Boston Scientific.
Many business schools focus on healthcare administration, but the Carlson School of Management's Medical Industry Leadership Institute (MILI) offers unparalleled market insight into the technology, devices, and responsible research methods that drive the healthcare industry and improve patient outcomes.
MILI was created in 2005 to help cultivate and develop the kind of talent needed to power the medical industry marketplace. Above all, MILI is a collaborative forum that supports the medical industry and those who lead it at every stage. MILI's vast connections create consistent top-level engagement among students, entrepreneurs, policymakers, business leaders, and financiers all focused on the advancement of the medical industry on a sustainable global scale. Business acumen and critical-thinking skills are highly valued by medical industry employers as they balance regulatory changes, reforms, and the desire to innovate responsibly. After immersing themselves in our hands-on, industry-focused curriculum, our students join the leadership-track programs of the largest and most creative medical industry firms, ranging from insurers to healthcare providers, and consultants to medical technology manufacturers.
Innovation Description
MILI offers students innovative training, knowledge, and experiences through industry-specific courses and unique, hands-on evaluations of emerging technologies from around the world. Our medical industry specialization draws on the diverse expertise of University of Minnesota researchers working in scientific, technical, legal, and ethical areas and leverages our state's concentration of top-tier companies to create the next generation of leaders. In turn, MILI offers national and international firms access to the rigorous intellectual community we have established: brilliant faculty with industry experience and academic accolades and focused, promising students who work to bring their expertise to bear on market evaluations, industry problems, and cutting-edge policy conversations.
MILI also has a National Industry Council as an advisory and governance body comprising senior-level executives from prominent medical industry firms as well as banking and consulting firms with strong connections to the medical industry. Our Executive in Residence (EIR) Program is composed of highly accomplished healthcare industry leaders who share their professional expertise. EIRs engage directly with students and faculty by participating in activities such as teaching, mentoring, coaching, and connecting with business communities to advance the mission of MILI. Our students gain invaluable experience in the Medical Industry Valuation Lab, which conducts rapid market assessments for new medical innovations. Students in the course produce over 30 analyses per year, helping assess lifesaving ideas and streamlining the time to market for critical new products. The Valuation Lab accepts students from eight different colleges at the University of Minnesota.
Innovation Impact
Since launching in 2008, MILI's Medical Industry Valuation Lab has assessed more than 300 medical innovations for organizations that include Fortune 500 companies, hospitals, medical device manufacturers, startups, nonprofits, and individual inventors. Students in the lab produce more than 30 analyses per year, gaining valuable hands-on experience, while clients get a top-to-bottom breakdown of their medical technology and its prospects in the market. This kind of mutual student-industry benefit is at the core of MILI's mission.
In 2017, the Carlson School won MBA Roundtable's Innovator Award in recognition of the valuation lab. MBA Roundtable is a collaborative, nonprofit organization that facilitates MBA curricular innovation. More than 150 business schools from across the world are members of the MBA Roundtable, which was founded in 1995.
In 2018, a group of MILI students won the Business School Alliance for Health Management Case Competition with their analysis and proposed solution to the opioid crisis. In fact, representatives from the Carlson School took first place in 2014 and 2016, and second place in 2013 and 2017—more placings than any other team in the history of the competition.
Finally, in a national competition by the Agency for Healthcare Research and Quality, a multidisciplinary team initiated and co-led by experts from the Medical Industry Leadership Institute won the grand prize for their healthcare app, PRISM—PROMIS Reporting and Insight System from Minnesota. This application adapts a successful paper-based patient-reported outcome tool (PRO) into a digital format and enhances the quality of clinical discussion between healthcare providers and patients by allowing for continued patient engagement outside of the clinical setting. PRISM was co-developed by a multi-disciplinary team including faculty, staff, alumni, and physicians from the University of Minnesota (Carlson School/MILI, CTSI/Institute for Health Informatics, School of Medicine) as well as Fairview/HealthEast Kidney Stone Institute and digital health company Perk Motivation. PRISM will be piloted in nine MedStar Health clinics.
Reference Links
Innovation Partners
Because of the emerging nature of the technologies that the MILI Valuation Lab assesses, the projects are covered by non-disclosure agreements, and partners cannot be listed.