Asian Institute of Management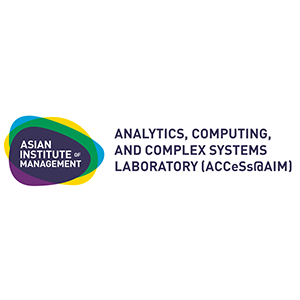 Championing industry-government-academia partnerships through research and development and "techpreneurship," [email protected] seeks to help grow businesses, improve developing Asian economies, and build the Philippines' data analytics capacity.
Call to Action
[email protected] is the industry-facing data science and advanced analytics laboratory of the Asian Institute of Management (AIM)—the first of its kind in the Philippines and among the very first in a business school. It houses a 500-teraflop supercomputer—a graphics processing unit (GPU) farm optimized for AI computing; it is the fastest in the country and one of the fastest within ASEAN countries.
[email protected] was created to lead and promote the use of data science, artificial intelligence, and computational models to help industries, government agencies, and other sectors innovate. Its mission is to improve the economy of developing countries within the Asia Pacific region by spearheading an innovation ecosystem that (1) bridges public-private R&D collaboration involving industries, governments, and academia; (2) promotes partnerships that enable faculty, researchers, graduate students, policymakers, executives, and industry decision-makers to work on projects that will directly impact businesses, societies, and communities; and (3) enhances the competitiveness, sustainability, and adaptability of companies with computing and modeling as strategic resources.
At its core, [email protected] endeavors to meaningfully contribute to nation-building by creating a scalable community of innovators, scientists, researchers, entrepreneurs, and policymakers. [email protected] also provides R&D depth to support AIM's degree programs, specifically its Master of Science in Data Science (MSDS) and the Master of Science in Innovation and Business (MSIB). The lab offers MSDS and MSIB students the opportunity to directly engage with industries and government agencies that expect [email protected] to develop actionable insights and provide valuable and impactful solutions to their real-world concerns.
Innovation Description
[email protected] has a multidisciplinary team of experienced and highly trained scientists, economists, and engineers who collaborate to create effective and practical solutions for its clients. With over 200 combined research publications to augment their practice, the team's competence is not only limited to traditional data-science techniques (e.g., AI, big data analytics, etc.) but also includes expertise in complex systems, complex networks, and agent-based modeling. The lab's collaborative ecosystem offers various organizations and industries data-driven solutions to critical issues within their environments.
Currently, the lab is helping several clients improve their business processes through data-driven decision-making and evidence-based solutions, with one of the deliverables being a data-driven decision-support platform.
[email protected] is also preparing to expand its services to include microenterprises, small- and medium-sized enterprises, and the public sector, providing them with the tools and resources to establish their data science initiatives. Two centers of excellence are underway, each in collaboration with leading multinationals, one in smart manufacturing and another in the logistics and supply chain.
Finally, [email protected] serves as the interface between our students and the multisectoral community of government and enterprise. There is synergy between our clients and our MSDS program: about 45 percent of our MSDS students are fully sponsored by the companies and government units we are currently in partnerships with.
Innovation Impact
While we have made concrete impact for our clients, our non-disclosure agreements prevent us from providing facts and figures that define the scope of our work and our deliverables, as well as quantifying its impact. Therefore, we would like to provide some general information.
In addition to three projects with ACER, [email protected] has ongoing initiatives with a leading conglomerate and a Philippine universal bank. We are likewise discussing several proposals with the Philippine Department of Trade and Industry and the Department of Labor and Employment. Some of our work involves making real-time performance forecasts based on multiple success metrics and developing a pioneering model and patentable system that predicts financial and population growth trajectories within specific urban areas.
Also, critically, [email protected] is a crucial resource for our degree programs, especially the MSDS, not only through student sponsorships but by way of providing material for the students' capstone projects. Twenty capstone projects have been proposed by more than a dozen companies, SMEs, and startups for the MSDS students to work on. Members of the [email protected] team serve as mentors to the MSDS students, providing the appropriate direction as outlined in the capstone project guidelines.
Reference Links
Innovation Partners
ACER; United Health Group; The Ayala Group; The Aboitiz Group; SM, Inc.; Central Bank of the Philippines; Security Bank Corporation; Globe; ZI Argus; Payruler; In1go Technologies, Inc.; MSU-IIT Iligan