Georgia State University, J. Mack Robinson College of Business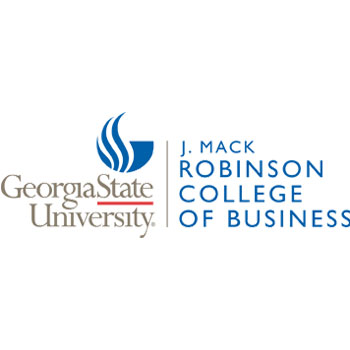 WomenLead: Closing the Gender Equity Gap
The program seeks to end gender disparity in corporate, STEM, and government workplaces by accelerating access to opportunity for students from all backgrounds through a cross-disciplinary and collaborative approach.
Call to Action
Despite earning 60 percent of collegiate degrees conferred today and comprising a majority of the workforce, women remain severely underrepresented in leadership positions in corporate, STEM, and government settings. Georgia State University's WomenLead Program seeks to close this pervasive gender equity gap by empowering young women to aim for leadership roles.
WomenLead, based in the Robinson College of Business, offers educational programming and professional signature experiences for the entire Georgia State student community and fosters outreach to the Atlanta business, government, and nonprofit communities. The target group of students includes undergraduates from colleges across the university, and the coursework and programming are also campus-wide.
Now more than ever, companies are recognizing the importance of hiring women candidates who will be strong future leaders. They are sponsoring women's leadership programs and initiatives in far greater numbers. The Robinson College of Business is participating in this national movement by creating a pipeline of talent for business, STEM, and government sectors. By doing so, Georgia State is doing the right thing for the school, its students, and the world.
Innovation Description
WomenLead provides high-achieving undergraduate students (3.3 GPA or better) with opportunities in and out of the classroom that encourage them to strive for top leadership roles across business, science, nonprofit, and government sectors.
Students who take the course come from four of Georgia State's colleges, representing 39 majors. Beginning in their sophomore year and following them through graduation and beyond, WomenLead is one of only a few undergraduate women's leadership programs at a major research university.
Students can choose between three distinct for-credit courses across different areas: WomenLead in Science, WomenLead in Policy and Politics, and WomenLead in Business. The core curriculum—building confidence in self, building confidence in work, and building confidence in community—is consistent across the courses, with an emphasis on the different subject areas.
The WomenLead courses, taught by tenured professors in legal studies, marketing, biology, and political science, emphasize opportunities for a high degree of collaboration among faculty and students. It furthermore offers students signature leadership development experiences through an on-site corporate visit, a power networking event, exposure to invited speakers, and interviews with community leaders.
The course culminates in a final leadership poster presentation event where students present their personal takeaways from the course and strategies for development for the future. This assignment, and the entire WomenLead course, require reflection, self-examination, intuition, intellect, inspiration, and courage. Alumni of the course become members of WomenLead and are encouraged to remain active in the program and with the next cohorts of students until they graduate.
Impact
In its most recent ranking, U.S. News & World Report identified Georgia State as the country's fourth most innovative university due to numerous initiatives described as "outstanding examples of academic programs that are believed to lead to student success." WomenLead's goal is to unlock the full potential of the participating, highly talented, diverse students and to place them on a trajectory for lifelong success.
WomenLead anticipates seeing the impact of the course in several measures:
Scalability: WomenLead began as a pilot course with 30 students in spring 2015. Today, more than 100 students are enrolled in four course sections every semester.
Engagement: WomenLead has leveraged Georgia State's network of alumni and friends to connect with Atlanta's corporate, nonprofit, and government leaders for networking events, mentoring opportunities, and visits to global firms headquartered in Atlanta. The program has forged partnerships with organizations outside Atlanta, including the Committee of 200—a community of the most successful women entrepreneurs and corporate leaders in business.
Financial support: The program received a leadership gift and endowment to create a WomenLead Center, three endowed WomenLead professorships, three endowed WomenLead scholarships, and a foundation grant to enhance WomenLead's civic engagement aspects.
Longitudinal impact: A study is being developed to quantify growth of WomenLead students' ambition and confidence.
Qualitative results: Student feedback often indicates improved self-perception achieved through the program. As one student stated, "One of the best things I've gained and love about this course is the confidence I've gained in myself as a person, student, and woman in the world of business."
Related Links