University of Pittsburgh, Joseph M. Katz Graduate School of Business and College of Business Administration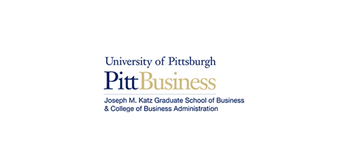 Category: Engagement With Business
Location: Pittsburgh, Pennsylvania, United States
Accreditation Status: Accredited
Innovation Title: Pitt Business Professional Academies and Industry Professional Networks
Innovation Statement
The Pitt College of Business Administration created the co-curricular Professional Academies and Industry Professional Networks programs to increase undergraduate student exposure to industry leaders through an experience in which students interact face to face with corporate partners and improve business skills.
Call to Action
The Pitt Business Professional Academies and Industry Professional Networks were created in response for the need to further enhance the professional development of Pitt Business undergraduate students. Although the Career Development Office offers valuable services to students, until this point it did not offer a structured, co-curricular experience through which students could interact face to face with industry leaders and corporate partners.
Both the Professional Academies and Industry Professional Networks fill this gap. Additionally, they provide students with additional knowledge and skills that are complementary to their business major and certificates/minors. The programs improve students' knowledge of a specific industry and equip them with a set of business skills that will position them to succeed. Completion of the program is intended to give students another qualification to help them stand out in the competitive job market.

Description
The Professional Academies and Industry Professional Networks programs are designed to increase student exposure to industry leaders in specific functional areas or fields. There are currently two Professional Academies: the Professional Sales Academy and the Real Estate Finance Academy. Students may only join one. The academies consist of a series of workshops taught by industry partners, and students must complete each workshop in order to earn the certificate of completion. The Professional Sales Academy, for example, offers topics on Demystifying Professional Sales, World-Class Sales Performance, Solution-Focused Sales, Intergenerational Sales, and Knowledge-Based Sales.
The Industry Professional Networks are offered in four areas: analytics, consulting, healthcare, and investments. Facilitated by the school's executives in residence—who are experienced professionals offering personalized advising support to students—the industry networks give students the opportunity to interact with industry professionals through formal networking sessions. The industry professionals who meet with the students have significant experience in a specific industry and are able to share lessons learned in their careers.

Impact
The Professional Academies and Industry Professional Networks programs have a significant impact on the professional development of students. As co-curricular, non-credit experiences, they are a way for students to gain additional skills to strengthen what they are learning in the classroom.
The two Professional Academies—in Professional Sales and Real Estate Finance—give students the opportunity to develop another functional skill set that can complement their business major. For example, students studying finance benefit by learning how those skills can translate in the real estate finance role. Additionally, students develop strong relationships with the corporate partners involved in the program, and that can lead to jobs and internships. In the Professional Sales Academy program, representatives from Lockheed Martin, Covestro, ADP, LLC, and DCK Worldwide spend time interacting with the students.
The four Industry Professional Networks enable students to take a deep dive in a specific industry. Through workshops, they learn key trends, meet with industry professionals, and expand their professional network. This also leads to jobs and internships for students. Just as important, it broadens their knowledge and understanding of a specific industry. In the consulting industry network, for example, students are able to interact with executives in the field and learn what it takes to specialize in this fast-paced profession.
Related Links