University at Buffalo, State University of New York, School of Management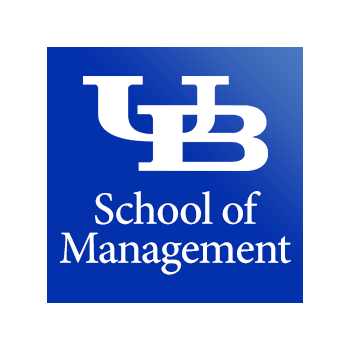 Location: Buffalo, New York, United States
Accreditation Status: Business and Accounting
Innovation Statement
The school created space exclusively for management undergraduates that facilitates varied learning styles and helps students build a sense of community with faculty, staff, and each other.
Call to Action
The State University of New York at Buffalo School of Management was keenly aware of the changing demographics in undergraduate higher education and needed to bridge gaps not only in college readiness but also in the lack of human interaction experiences that young people have prior to entering college. The school wanted to provide the right balance of challenge and support for students with a wide variety of learning needs and styles. In addition, students needed to embrace the notion of engagement much earlier in their academic careers.
The goal was to create a space that achieved this vision of greater challenge and support while fostering a strong sense of community at a very early level, so all management undergraduates could excel in ways that would make them among the most successful and competitive graduates in the marketplace. However, the school needed to find a place and the funds to make it happen. These space requirements required some high-tech, engaging classroom options that were not currently available in the School of Management or the university.
The concept required creativity to design and transform a space that would achieve such heightened engagement within the classroom and beyond. As a result, the idea was born for the Undergraduate Learning and Community Center exclusively for School of Management undergraduates. The dean focused on raising funds to transform a nearly 6,000-square-foot university storage space in the basement level into a state-of-the-art learning and community center entirely dedicated to undergraduate business students.
Innovation Description
The 18-month project was made possible by a 500,000 USD lead gift from alumnus Frank Clement and his wife, Marilyn, with matching funding from the University at Buffalo Provost's Office and an additional anonymous contribution. The Undergraduate Learning and Community Center opened in September 2015 in the Jacobs Management Center. A Place to Gather: From the moment they step on campus, undergraduates become part of the School of Management community.
The new center offers a bright, colorful space dedicated exclusively to them. In the Frank and Marilyn Clement Undergraduate Community Hub, students can socialize with friends, work on group projects, or study individually. A Place to Learn: With three state-of-the-art classrooms for first-year seminars and other undergraduate courses, the center is the academic home for business undergrads.
In the Learning Hub, students can take advantage of peer study groups, open work sessions, and workshops on such topics as communication, study skills, and personal branding. Center-certified tutors work with students in several courses in economics, accounting, psychology, and mathematics. ESL coaches also are available to assist international students by creating a personalized plan to improve their English skills and ease the transition to UB and American culture. A Place to Thrive: Within the center, undergrads can find a meaningful network of resources to help them develop sustainable academic skills and reach their goals. Plus, the comfortable, inviting space is a place for them to get to know their peers and flourish as members of a large but close-knit community in the School of Management.
Impact
The high-tech classroom space allows for flexible teaching and learning and promotes a collaborative learning experience for the students. The skills acquired in these small interactive classroom settings lay the foundation for students to learn to engage. Additionally, because the new classrooms are part of the Undergraduate Learning and Community Center, the facility encourages students to continue engaging with their peers and to take advantage of the broad range of services offered in the center in a seamless fashion before and after classes.
Since it opened in September, the center has been a resounding success. By early November, there were nearly 2,800 student visits, more than 420 tutoring sessions (52 sessions a week) and a 16 percent increase in visits from September to October. Much of that success has come organically through word of mouth among management undergraduates. Students have likened the brightly colored space to the offices at Google or Microsoft, and shared how the facility has helped them feel at home in the School of Management and with their new community of peers. In short, the School of Management has created a destination for its undergraduate students to connect with their peers, faculty, and staff with a focus on engagement and development of skills for lifelong success.
URLs: