Kennesaw State University, Coles College of Business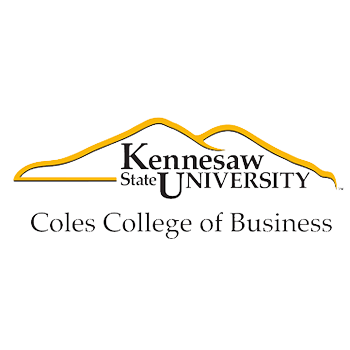 The Kennesaw State University Doctor of Business Administration was the first AACSB-accredited doctoral program designed to provide a research doctorate for non-traditional students. Over 80 percent of graduates pursue faculty positions.
Call to Action
The motivation behind the development of the innovative Kennesaw State University Doctor of Business Administration (KSU DBA) program was to provide a high-quality business doctoral program with an innovative program delivery model designed for experienced business professionals. Additionally, the KSU DBA program helps to address the shortages of business school faculty members in certain disciplines. The mission of the KSU DBA program is to provide highly experienced professionals with the skills needed to conduct theoretically grounded and scientifically based research, which will serve to prepare them for teaching and research positions in academia, government, or industry. The program objectives are as follows:
Develop graduates who are intellectually informed and can apply newly acquired analytical skills needed to conduct business and research
Expand second career options that build upon an individual's past experience and academic achievements to prepare for future job opportunities
Leverage the latest educational technologies to provide students unique access to leading global scholars
Create the most innovative doctoral program in the world that produces world-class scholars and educators with significant professional experience who can have substantive impact on business and business education through their research and teaching
Innovation Description
The Board of Regents of the University System of Georgia approved the KSU DBA program in 2008, and the first class was admitted in 2009, creating the first AACSB-accredited doctoral program designed to provide a research doctorate for non-traditional students. Because over 80 percent of graduates pursue positions in academia upon graduation, curriculum and dissertation processes are focused on preparing graduates for academic research positions.
The KSU DBA program is a cohort-based program that requires a minimum of 36 months of continuous enrollment to graduate (the average student takes 42 months to graduate). Students take discipline-specific courses in accounting, information systems, management, and marketing, taught by top publishing scholars from KSU and other institutions. Global scholars bring additional expertise in specific research areas within the field, allowing KSU graduates specialized preparation in critical areas such as international business, entrepreneurship, family business, accounting, auditing, or sales.
Unlike in traditional doctoral programs, classes in the KSU DBA are taught during intensive, full-immersion weekend residencies (three or four days, each from 8:00 a.m. to 5:00 p.m.), nine times per year. This unique format enables KSU DBA students to maintain their jobs while pursuing a research doctorate. In between residencies, students typically work on reading assignments, methods exercises, and research papers under the guidance of their main professors.
Impact
The impact of the KSU DBA program has been significant in the placement of program graduates into academic positions and the research productivity of students while completing program requirements and within the first three years after graduation. The program has admitted over 132 students in seven cohorts, boasting 56 graduates as of July 2015. Seventy-five percent of graduates seeking academic posts have been placed in tenure-track positions at AACSB-accredited schools. Others have accepted clinical faculty positions or have leveraged their DBA degree in industry.
Appointments at business schools within Georgia include Columbus State University, Middle Georgia State College (now at Florida State University), Savannah State University, University of North Georgia, Dalton State College, and Oglethorpe University. Placements at schools outside of Georgia include Auburn University, Clemson University, Marshall University, Middle Tennessee State University (4), Midwestern State University (2), University of South Alabama (2), University of North Florida, University of Tennessee at Chattanooga, University of Toledo (now at Indiana University), University of Nebraska Lincoln, Texas A&M University-Commerce, Whitworth University, and University of Colorado.
In the area of research impact, graduates of the program have had an average of two peer-reviewed journal publications in the first three years after graduation, and many have published articles during the program. The scholarly outlets include leading journals in accounting, management and entrepreneurship, and marketing, including the following: Accounting Horizons, Journal of Family Business Strategy, Industrial Marketing Management, Entrepreneurship Theory & Practice, Journal of Business Ethics, and Journal of Management Studies.
URLs: