Colorado State University, College of Business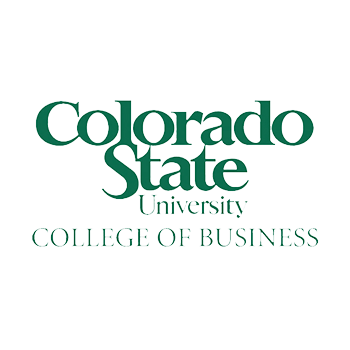 Location: Fort Collins, Colorado, United States
Accreditation Status: Business
Innovation Statement
ACTIV82LRN is an online application that allows students to engage in social learning by answering questions, while viewing and evaluating the answers of fellow students.
Call to Action
Two Colorado State University (CSU) College of Business faculty members, Joe Cannon and Brian Fugate, were interested in replicating the active learning experience typical of a case discussion or debate efficiently and effectively in an online forum. Many of the most effective MBA classes are designed so students learn from each other (social learning) as well as from the instructor. Today's learners want flexibility and prefer asynchronous teaching so they can go online when they have time. Consequently, online interaction with other students and social learning is through tools with severe limitations. Perhaps the most popular tool for interactivity is the discussion board.
Cannon and Fugate and their students find discussion boards to be ineffective. While they offer asynchronous discussion, most students don't like reading a long, repetitious threaded discussion. When they do participate discussion boards, they feel it is difficult to add anything new to the discussion and many add to the repetition to simply get participation points. There is no opportunity for the instructor to tie up the learning at the end unless they add another comment and ask students to return again to the discussion board. The whole process adds little to learning. Other tools that promote interactive social learning require synchronous tools, and students—and possibly the instructor—must gather in a web or video conference space at a specified time. While synchronous tools can promote active learning, the requirement to meet at a specific time reduces the flexibility that many online students seek.
Innovation Description
The professors designed ACTIV82LRN (activate to learn) to efficiently and effectively mimic the active learning approach used in case discussions and in-class debates. This type of learning fosters analytical, evaluation, and critical thinking skills that are at the heart of the MBA learning experience. An instructor designs an exercise and corresponding questions in ACTIV82LRN. Video content can be embedded as well (e.g., a Ted Talk that might raise controversial issues). The most effective questions are those without a clear answer (like many management decisions) but maybe two clear alternatives (as in many business case studies).
There are two types of questions. In Type A, a student must choose one of two options (Which option should the manager choose?) and then justify his or her choice. The system captures the student's response and presents answers to the same question from other classmates (the instructor sets the number of other student responses the student sees that agree and/or disagree with that student's answer). Thus, the student is presented with others who disagree with their recommendation and then is forced to critically evaluate their own responses as well as their classmates' responses. Type B avoids the multiple choice starter and can be used for open-ended questions. This typeallows students to see and react to other students' answers. To wrap up the activity, the instructor has the option to include a summary (text or video) of the learning objectives for the activity. The activities can be completed asynchronously in a single sitting.
Impact
The CSU College of Business and MBA program and, most importantly, students and instructors have been very pleased with the use of ACTIV82LRN in multiple courses across multiple semesters. Student survey responses and comments are almost universally supportive that the product forces them to think more deeply about cases, exercises, and learning (from seeing other students' answers to the same questions). A few example comments include the following:
"An exercise like this really engages my brain and makes me look at the case differently by getting other students' perspectives."
"This exercise was so much more valuable than the comment thread process, which I have found in the past to be an extreme waste of time without any added value."
"This assignment allowed insight into the thought process of others and questions help reinforce my critical thinking process and application of material."
"It holds me accountable to stay on top of the material."
"I appreciate the differing view points. Overall learning is definitely enhanced."
As indicated by these comments, the software offers great potential for efficiently adding more active learning and critical thinking to the online learning environment. Instructors have also used the software to prime students for in-class discussions starting the discussion online and moving it to the face-to-face classroom. In a face-to-face environment, students indicated they like this approach, and instructors have found students much more active in class discussions. The College of Business plans further development and commercialization of the patent-pending ACTIV82LRN software.