Virtual and Augmented Reality
Thought Paper
2018
Free
Technologies With Potential to Transform Business and Business Education: Virtual and Augmented Reality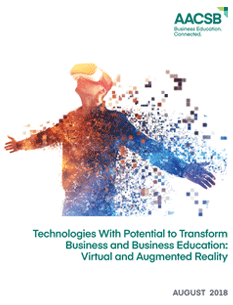 This report provides a general landscape scan into some of the major characteristics and developments within the VR/AR space. The overview provides some general frameworks to aid in discussions around this growing technology and may help inspire new ideas on how VR/AR can continue to impact business education and its stakeholders.
For media inquiries, please contact [email protected].
Subscribe to LINK, AACSB's weekly newsletter!
AACSB LINK—Leading Insights, News, and Knowledge—is an email newsletter that brings members and subscribers the newest, most relevant information in global business education.