Educators

Businesses
Americas Accreditation Conference
Join 600+ peers in Atlanta, Georgia, USA for AACSB's largest accreditation-focused event.
Date(s)
September 13​ – 15​
Event Type

Conference
Keynote Speakers
Keynote I: The Future of Higher Education—A Time for Leadership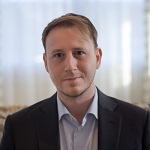 Scott Van Pelt, Associate Director, Wharton Communication Program, The Wharton School, University of Pennsylvania
Scott Van Pelt is a higher education professional and instructor who has held a variety of administrative and teaching positions over the past decade, including roles in the areas of academic advising, admissions, student life, instructional technology, and curriculum design. A graduate of the M.A. and Ed.M. programs in Higher and Postsecondary Education from Teachers College, Columbia University, Scott's academic interests lie at the intersection of technology and pedagogy. Currently, Scott is an associate director with the Communication Program at the Wharton School of the University of Pennsylvania. In this role, Scott designs and implements the curricula for business communication courses within the MBA core curriculum. He also teaches several courses in the program, including Management Communication and Crisis Communication. Scott is a skilled facilitator, with experience designing and delivering sessions on communication skills to audiences as varied as Wharton's Non-Profit Board Fellows Program, PhD students in the Fulbright Scholars Program, and certificate students in the Strategic Leadership in Education certificate program at Penn GSE.
Keynote II: State of Accreditation Discussion with Stephanie Bryant

Stephanie Bryant, AACSB International
Dr. Stephanie M. Bryant is the Executive Vice President and Chief Accreditation Officer of AACSB International. She served as Dean of the College of Business at Missouri State University for 6-1/2 years and was previously the Director of the University of South Florida School of Accountancy. She received her Ph.D. and B.S. in Accounting from Louisiana State University and is a Louisiana CPA (inactive). Dr. Bryant specializes in accounting information systems, and previously worked for KPMG Peat Marwick. Dr. Bryant has co-authored two accounting textbooks, and over 30 academic articles and has won nine teaching awards. She served as the 2005-2006 national President of the American Accounting Association Information Systems Section. She also served as the 2006-2009 International President of Beta Alpha Psi.

Suzanne Mintz, AACSB International
Suzanne Mintz serves as Vice President, Accreditation at AACSB International. In her role she has responsibility for the performance of AACSB's global accreditation team and leads the development and implementation of strategic and operational accreditation initiatives in support of the AACSB mission. She is responsible for overseeing strategic partnerships with other accreditation bodies, and oversees the management of AACSB's volunteer network globally, including training, engagement and recognition strategies for AACSB's volunteers. Prior to joining AACSB, Mintz worked in corporate training and development in the financial services industry, responsible for overseeing the implementation of sales and management development programs. She holds an MBA in finance and management from the University of South Florida in Tampa and is a certified Project Management Professional.