Susan E. Lehrman
Dean, Rohrer College of Business, Rowan University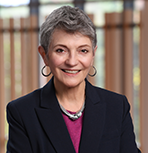 Sue Lehrman has served as dean of the William G. Rohrer College of Business at Rowan University for the last six years and has been dean for over 20 years at four different institutions.
With a commitment to innovation and entrepreneurship, Lehrman currently serves on the AACSB Board of Trustees and the Business Accreditation Policy Committee. Recently she served on the AACSB Business Accreditation Task Force and co-chaired the three-year, 3 million USD Rowan Education of the Future Task Force focused on reimagining the Rowan curriculum.
Lehrman received her PhD in health services management from the University of California at Berkeley. Her research and consulting services focus on measuring and improving the efficacy of coordination across the continuum of care, with a special emphasis on HIV/AIDS services.