The American University in Cairo School of Business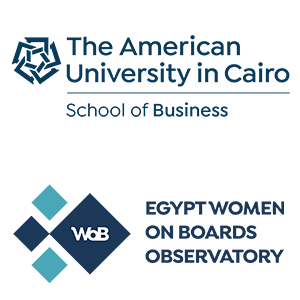 Egypt Women on Boards Observatory (WoB)
Egypt Women on Boards Observatory—founded by a consortium initiated by the American University in Cairo School of Business—supports the national objective of having women compose 30 percent of public and private company boards in Egypt by 2030.
Call to Action
Women represent 60 percent of university graduates globally and 80 percent of the decision-makers around the purchase of consumer goods. Evidence suggests that companies with strong female representation at board and top management levels perform better than those without, and that gender-diverse boards have a positive impact on performance.
Egypt Sustainable Development Strategy (SDS) Vision 2030 is a national agenda launched in 2016. The vision consists of eight main national goals to be met by 2030 that are in line with the Sustainable Development Goals (SDGs) and the SDS for Africa's Agenda 2063. The National Strategy for Women's Empowerment and Gender Equality is the policy tool adopted by the Egyptian government to achieve empowerment and gender equality for women.
The lack of data related to both women's representation on boards, and the availability of qualified women to fill board roles was the motive behind producing and issuing annual reports to monitor the progress in female representation. Partners of Egypt WoB Observatory represent unique value-added partnerships, bringing together government, business associations, research institutions, international organizations, and non-government organizations. The cooperation between these entities resulted in a broad coverage of the major business sectors where women have presence on boards, providing enough flow of information for regular and periodic reporting, efficient decision-making, research, and the database.
Description
Egypt Women on Boards Observatory was founded in 2017 by a consortium initiated by the American University in Cairo (AUC) School of Business. It is recognized as a specialized entity within the framework of the National Council for Women, Egyptian Women Observatory, and advocates for the presence of at least 30 percent women on boards in Egypt by 2030.
Egypt Women on Boards Annual Monitoring Report: This report offers a snapshot of the representation of women on boards in different categories and provides an indicator for Women on Boards in Egypt. It also identifies the gap of women on boards in the studied categories, with an aim to reach the target of the 2030 strategy.
Egyptian Board-Ready Women Database: This database is designed to support the placement of women on company boards based on their expertise. The database currently hosts records of women who are already serving on public and private company boards as well as candidates ready to be placed, with their economic sectors, areas of expertise, educational background, and other parameters.
Board Placement Service: This service is offered to companies across several sectors, encouraging them to acknowledge the benefits of increased board diversity. It helps them place and promote female talents on boards and connect them with CEOs and board executives using the Egyptian Board-Ready Women Database.
Capacity Building and Awareness: Awareness activities raise the visibility of the observatory and the benefits and incentives that gender equality has on profit and sustainability at the firm level. These activities have resulted in increasing recruitment and retention of women in high-growth sectors, improving board cultures that reflect the national commitment to governance, inclusiveness, and diversity. In addition, training was offered for both male and female board members as well as women in the pipeline for board membership.
Impact
The work of the Observatory and its partners in research and advocacy enabled and supported the Financial Regulatory Authority (FRA) decrees of 2020 and 2021, requiring 25 percent, or at least two women, on the boards of companies regulated by the FRA. Further, the Central Bank of Egypt decision of 2021 states the necessity of having at least two women members on boards of banks. The Observatory collaborated with The Boardroom Africa and the Egyptian Exchange (EGX) and produced a Board Diversity Index Report in 2020 and 2021, demonstrating gender diversity in Egyptian-listed companies.
Egypt Women on Boards Annual Monitoring Report: The Observatory has successfully issued and disseminated four annual monitoring reports that tracked progress achieved in the representation of women on boards, increasing from 9 percent in 2018 to 10 percent in 2019 to 13 percent in 2020 to 16.7 percent in 2021. This reflects the increasing awareness of gender diversification and inclusion of more skilled women on executive boards.
Egyptian Board-Ready Women Database: The database currently hosts over 700 applications, 270 of whom are already serving on boards.
Capacity Building and Awareness: In an affiliation with several donors, funds mobilized were used to offer a 50 percent scholarship for women attending the training programs tailored and provided by the AUC.
Reference Links:
The American University in Cairo School of Business
Women on Boards Observatory
AUC 2021 Women on Boards Annual Monitoring Report:
LinkedIn: Egypt Women on Boards Observatory
The Boardroom Africa: Board Diversity Index Report: Egypt 2021 Edition